Arizona's capital, Phoenix is the largest city of the State of Arizona and the sixth largest city in the United States (2010 stats) with a population of approximately 1.500.000 citizens.
Arizona is host to many Fortune 500 companies; taking advantage of the state's competitive tax rates, warm business environment and skilled workforce.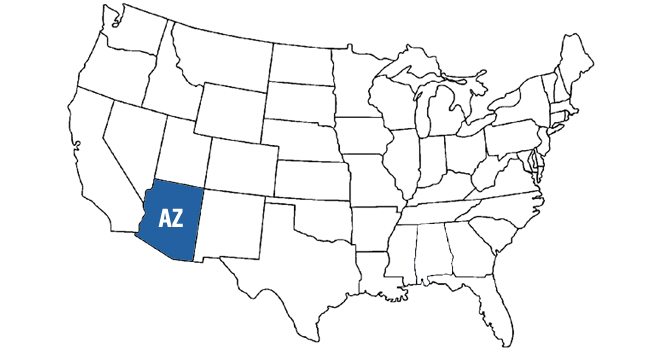 Taxes and Cost of Operations Overview
The state of Arizona applies a tax rate at 5.6% per sale. The state capital, Phoenix adds an extra 0.7 to that should you base your business there rising the total state tax rate to 6.3%. All other Arizona countries impose an extra tax to the state's 5.6% as well; consult the local authorities to find out how much that is.
Cost of Operations
Industry Week Magazine ranked Arizona number one for the lowest workers compensation and benefits back in 2008. Up to this day, Arizona has one of the lowest wage rates in the United States which combined with the relative low taxes and low infrastructure costs, make Arizona perfect for business operations. The State started a program imposing significant business tax reductions and other tax credit incentives back in 2005 which are both expected to increase Arizona's competitiveness regarding tax rates.
Cost of Living
Arizona doesn't impose taxes on food destined for home consumption (some cities in the state do though). There are no gift of inheritance taxes and no taxes on medication prescribed by a licensed physician or dentist. However, there's an 18 cents tax per gallon on gasoline which is on top of the respective federal tax. Generally speaking, Arizona is not that expensive to live compared to most States, although there have been complaints about electric bills in Phoenix from time to time.
So, how to start a cleaning business in Arizona?
1. Research and Learn. Prior to starting your cleaning business in Arizona, you should to some research on the industry as a whole to better understand what you're getting into. You can start by reading our step by step guide to starting a cleaning business. You may start from Part I which is an overview of the market and analyzes personal qualifications. Then we suggest that you follow up with this guide (opens in a new window – all external links are) which also comes with resources and tools for your cleaning business such as janitorial bidding software, premium logos bundle, cleaning contract forms, cleaning invoice templates and more. Make sure you BOOKMARK everything that you find useful in a separate folder in your bookmarks menu; you ARE going to need that!
2. Financing. If you need help financing your cleaning business in Arizona, visit the United States Business Portal to find aid.
3. Picking the right location is vital to your business and financial success. Arizona has Site Selection Services in order to provide you with the support and services needed to properly evaluate the business opportunities in Arizona.
4. Coming up with and Registering a name for your cleaning business with the State of Arizona. Coming up with a great name for your cleaning business may be time consuming but it's not something you want to stay clear of. Take your time and come up with something memorable and brand-able. Check our cleaning business names article for help and root name ideas.
After you come up with a name for your cleaning business, follow these steps:
Verify the name you want on the Arizona Secretary of State's database you can find here.
Verify the name you want on the Arizona Corporation Commission's database available here.
Verify the name you want on the

U.S. Patent and Trademark office's, Trademark Database

available here.
If all checks out okay, the time has come to register your cleaning business name:
While the State of Arizona does NOT require businesses to register Trade Names, it is advised that you do so. To register your business name and get a DBA (Doing Business As), simply visit the Office of the Secretary of State. Your new name or trademark will not be approved by the Secretary of State until he has received the application and the respective fees. Until you get your approval, do not pursue any advertising, including printing business cards. For more information and downloadable forms, click here. Note that if you need a federal trademark as well, you'll have to visit the US Patent and Trademark website (find the link above).
5. At this point you'll need to determine the legal structure of your cleaning business. To do that, you'll need a professional attorney and accountant, however, you can get a first glimpse by reading this article.
6. Get a Business Bank Account and Insurance. Opening a new business bank account to make your business transactions distinct from your personal ones is another requirement. Then you should acquire liability insurance and while it's not law-breaking not to, you should also get bonding insurance. Bonding insurance is useful for making your business look trustworthy to the eyes of other business owners who are looking to hire you.
7. Comply with all Federal Laws and Requirements. You should comply with all federal laws and legal requirements of your business. You may find more information on federal law requirements by reading our guide found here. However, you should also seek an attorney's assistance to deal with such, rather complicated, matters.
8. Registering for State Taxes. The tax range of Arizona starts at 2.87% (Lowest) and rises up to 5.04% (Highest) depending on your income level. The State of Arizona imposes income tax if your income is at least $15.000. Married taxpayers who file jointly are only paying taxes if the adjusted gross income is at least $11.000. For taxpayers who file as head of the household, as a single or as married who file separately the respective amount is $5.500. No special handling nor action is taken for capital gains by the State of Arizona, they are taxed with regular rates. Only regular tax credits apply (school tuition, tax credit on public school, tax credit on family). If you have income from other states, it is still taxable in Arizona. However if you're double taxed, you may be eligible for a tax credit.
To register your business for Arizona State Taxes, visit this page. Also visit the General tax information and Forms page. As an employer you must also pay the Unemployment Insurance Tax and of course, the Worker's Compensation Insurance.
9. Get an Arizona Business License. There's no generic business license in Arizona. Some businesses need to obtain a single license, others may need more. It all depends on the type and volume of your business as well as from the local restrictions and regulations of the city or town your cleaning business will operate from. You need to get in touch with the local authorities to learn about the local laws and restrictions that may apply in your case. If you need further assistance than that the local authorities can provide you may visit the Arizona Small Business Ombudsman.
10. Report New Hires and Re-Hires. As required, you need to report new hires and re-hires to the Arizona New Hire Reporting Center within 20 days of the day the hire or re-hire took place.
11. Adopt Workplace Safety Standards. As required by federal law, you need to comply with workplace safety regulations. You may visit the Arizona Division of Occupational Safety and Health for extensive information regarding the matter; they will guide your cleaning business to full compliance.
12. Adopt Environmental Standards. You may not need environmental licenses or permits but it's always wise to double check. Visit the Arizona Department of Environmental Quality for compliance assistance.
13. Comply with Arizona's Payroll Tax Record Keeping Requirements. To fully comply with those, you'll need to keep payroll records that show the hours worked for each day worked and the wages, salaries or compensations paid to each individual employee for no less than 4 years. The State of Arizona (via the Industrial Commission) may reduce the recordkeeping requirements for small businesses that are found to be unreasonably burdened by the requirements.
14. Brand your Business, Grow Strong. Getting a professional logo for your business, a domain name to build a website on, distributing flyers by door to door as well as putting other marketing techniques into use, all will greatly help your efforts to grow your cleaning business and allow for more leads and eventually cleaning contracts.
Hopefully, you enjoyed this guide about how to start a cleaning business in Arizona, Feel free to browse through the rest of the website, I'm sure you'll find lots of interesting articles for your cleaning business. Good luck in your endeavors!