Well, it's a dirty job, but somebody has to do it! No, we're not talking about working on an oil well derrick off the coast of Louisiana; this is a commercial cleaning business to feed your entrepreneurial spirit, where you are the boss and the person who makes the decisions. So, how to start a commercial cleaning business? What will you -mostly- be doing? You won't be cleaning homes for construction companies; the Merry Maids handle that end of the cleaning business.
You'll be attacking the commercial end of the business, and there are plenty of customers, old and new, who are out there waving white flags and banners that say: "help."
Starting a commercial cleaning business is rather exciting. It's a very lucrative market, demand is increasing day by day and the opportunities are vast.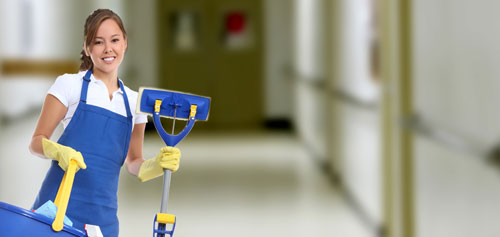 How to start a commercial cleaning business – First Steps
To begin your quest on how to start a commercial cleaning business, let's take a quick look at a primer, and take a peek at some items required to start your business.
#1 – The first you need to do when starting a commercial cleaning business, is to obtain a business license or business tax receipt, open a local business bank account, and make everything legal by filing a fictitious business name certificate which is usually published in local papers. Speaking of names, visit your local yellow pages, see what names the competition is using, then pick one of your own that has a catchy name that will be remembered by the public, like: "Clean Sweep Cleaning Business," or "Mops and Buckets Cleaning Service." Naturally, you will have to drum-up new business, and build a client base, and you'll also have to invest in the necessary equipment and supplies, as well.
#2 – Another thought how to start a commercial cleaning business is to protect you by buying liability insurance and janitorial bonding. These two items will protect you and your cleaning staff from any fingers being pointed at your business for theft, property damage, as well as possible injuries. As far as lining up supplies, products, and equipment, simply investigate a large janitorial supply distributor in the area, for training and purchase options.
#3 – Since you'll need an air-tight business contract for your customers consider seeking advice from an attorney. The contract content should include, but not be limited to, what basic cleaning services you will perform, and the pricing, which most times, is arrived at on a monthly basis. The pricing structure is usually arrived at by the square footage involved. When starting a commercial cleaning business you might have to consider purchasing a complete start-up guide along with bidding and pricing software, contract agreements, sales letters and forms, management tutorials and all sorts of vital information. We suggest the cleaning business ultimate package found here.
How to start a commercial cleaning business – Promoting & Advertising
However, let's not have any misconceptions about how to start a commercial cleaning business, and the minefields that lay ahead in terms of competition. You'll be selling your cleaning services, but how you approach that aspect of the "cleaning game," will be the deciding factor in whether the money light is green or red. How to start a commercial cleaning business is not complicated if you have a plan on how to build a customer base.
Contacting friends and neighbors who may have a small business is a start. Buying some magnetic signs to place on your work van, and even the family van is a thought. Place a small ad in the yellow pages and on Craig's List; send out some direct mail business information to small and large businesses. Strangely enough, most potential customers will listen to your sales pitch if you can offer better pricing than the company they currently use. And, of course, you'll need some clever business cards to pass out. Where I live, they're even tacked on city telephone poles.