Part I of our guide was about the fundamentals of the cleaning business industry.
Now you know there's two major cleaning business types and more than one ways to get started in this business.
So, before finalizing your direction, you need to have as clear a view as possible about the costs involved in either pathway.
So, without further ado…
Basic start-up costs of a cleaning business
Surprisingly enough, most cleaning business owners we know or came in touch with over time started their business from home with no more than 500-1000$. This is definitely possible if you choose to start conservatively. On the contrary to what most people think, it doesn't take a lot of money to start a cleaning business, nor do you need to invest all of your available capital at once. This is the case with most business so to speak.
While having a larger capital to invest may speed up the process of establishing a profitable cleaning business, many choose to start with only a couple hundred dollars and then finance and grow their business as they get more clients. In this case however, most of the work must be done by the owner himself to avoid salary expenses. On top of that, this model highly depends on the owner's ability to attract customers with minimal or no marketing done. If you have friends or know small business owners that need cleaning services or you feel you can approach customers simply by walking into their office, go with it. It has worked with many people before with successful start-ups.
There are costs you can't avoid no matter which path you choose to take:
1. You need to register your cleaning business
The total amount payed depends on the type of business you're registering. The cheapest route would be sole proprietor, with the cost being anywhere between 30$ to 50$ down in your local County Clerks Office. If you choose to register as a Limited Liability Company (LLC), you'll need some more cash ranging from 100$ to 400$ to get the job done.
2. Opening a business bank account
You need to open a business account right after you register your cleaning business name. You do need to deposit about 100$ to open a business account but technically speaking this isn't a cost. The money is still yours. You just have to have that amount available so to speak.
3. Getting insurance
After registering your name and opening a business bank account, you need to look into liability insurance. Insurance will cost you about 700-900$ a year. You don't have to pay all that to begin with. Depending on the state you reside in, you can pay your bills monthly or every four or six months. This is a recurring fee obviously but revenue from clients will very easily cover that even in the worst case scenarios.
4. Your first cleaning supplies
Another thing you gonna need is to buy some cleaning supplies*. If you're starting a cleaning business from home, you may find most of them hanging around but you will most likely have to buy some extra chemicals and other supplies. The type and amount of the janitorial / cleaning supplies needed will very much depend on the type of services offered by your business. Vacuum cleaners, soaps, various paper products and dispensers, cleaning chemicals and tools (dust cleaners, scrubbers, spray bottles, sponges etc), floor cleaning materials to name just a few. As you see, the cost varies from cleaning business to cleaning business. But 200-300$ would be more than enough to begin with based on our experience.
*IMPORTANT: You don't need to buy ANY supplies before you get your first clients. When you've got some contracts, render the supplies you gonna need and simply go buy them then. The only downside is that buying supplies in bulk costs less, especially if you're ordering online. In which case it'll be two to three days till your supplies are shipped. And you don't wanna stall your clients. Waiting for supplies is obviously not an excuse so make sure you can get any supplies necessary locally and in the same business day. If there's something you need and you can't get your hands on an hour after booking a client, consider pre – ordering it.
5. Getting some business cards
Well, that's really necessary. Can you imagine a client asking you for a business card you don't have to provide him with? That's REALLY bad for business. But don't worry. You can get 2.000 of those for about 50$. If you don't need that many, your cost is not even worth mentioning.
You are now in business!
Financing your cleaning business start-up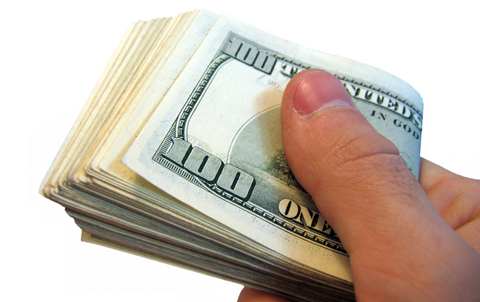 Either starting a small business from your own home or starting a larger cleaning business from the beginning, you will need some sort of financing. You may consider the following options to finance your start-up:
1. Your first choice would be to sell some assets of yours to finance your new business. A lot of people come with various valuable things that they don't need or have any attachment to. Most tend to forget they got them lying around really.
2. Choice number two would be friends and family. Consider asking them to lend you some money. Be very careful though and only ask from those you know they can afford to lose. Present yourself as a serious businessman more than a family member so they can take you seriously. Family arrangements are always a tricky business so unless there's no other way of starting your cleaning business, keep a safe distance.
3. You could also apply for a small loan or use a credit card to cover your very first expenses. Be mindful of the interest rates and stop financing your business this way if you don't see any profit in your first few months of doing business.
4. Partnerships is another way to go. If you have friends or family that would like to jump in this booming industry, consider partnering with them and share expenses and profits down the road. Just make sure you hire an attorney since such deals require the most of legal attention.
5. Government support programs for small businesses definitely deserve some of your attention. To begin with, get in touch with the U.S. Small Business Administration and get as much information as possible. There's a great deal of financing possibilities and you wouldn't want to miss out on those.
Now that you know how much a cleaning business start-up cost, it's time to take a look at the procedures needed from starting your cleaning business to getting your first clients and collecting your first money.
or, go back to